Upcoming Workshops
Stay tuned for our upcoming workshops and health information sessions. Have a topic that you're interested to know more about? Let us know and we'll go from there!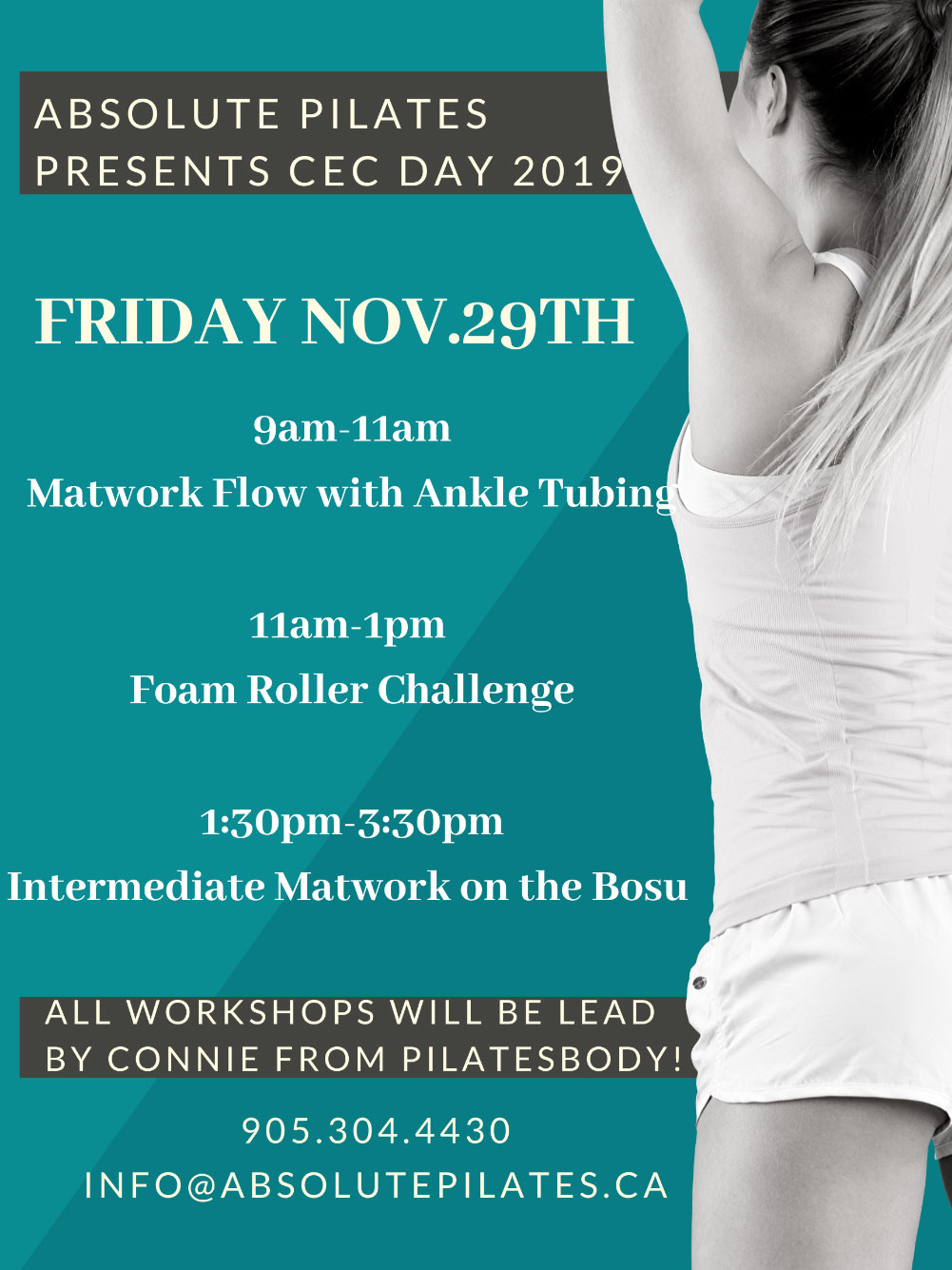 ---
Upcoming Continuing Education Courses
We are currently organizing our CECs for Spring 2019. Please stay tuned. If you're interested in a specific Pilates workshop, please send us an email and we'll add it to our list ~ info@absolutepilates.ca
Friday November 30th, 2018
Each workshop will be $125 and 2 hours in length.  You do not have to be STOTT trained/certified to register for these workshops.  So if there is a workshop that you feel would be beneficial to your clients please call or email us TODAY to save your spot.
905.304.4430
Matwork Interval Training, Level 2
10:00- 12:00
Mix up your workouts and maximize power, endurance and metabolic potential with this simple but effective Matwork exercises, developed by the Merrithew™ team. Studies show that in order to continue seeing results, long-time clients need to challenge muscle memory and mix up training methodology. Sticking to the same workout routine may cause them to plateau. Combinations of movements integrate different planes and motor patterns in more intense intervals, and provide more challenge once a level of stability and strength has been established. Incorporate the theories of interval training and even those who doubt the benefits of Pilates will 'feel the workout'.
Total Barre Modified for Special Populations
12:00-2:00
Clients with limited mobility or restricted movement need not shy away from exercise. Research shows that all active adults can benefit from exercising with music as it helps improve learning and memory, builds self-esteem, reduces stress and increases social interaction. Following the Total Barre® template, appropriate biomechanical principles are taught to help with cueing, motivating and modifying safely for less mobile, active adult clients. Leave with a client program that increases flexibility, balance and postural stability.
Lumbo-Pelvic Region Matwork for Stability and Function
2:00-4:00
This lecture/demo, developed by the Merrithew™ team, explores the anatomy and biomechanics involved in the normal, healthy functioning of the lumbo-pelvic region, some of the dysfunctions that can occur and Mat-based exercise progressions to restore optimal function. First, the available movements and ideal functioning of the lumbo-pelvic region are explored, considering the lumbar spine, pelvis, hip and surrounding musculature. Next, common abnormal or dysfunctional movement patterns and postures are addressed. Finally, Matwork exercises incorporating a variety of small props and progressions to rebuild normal muscle action and movement patterning are outlined.
---