Our Pink Pilates event is now on Facebook. Check out the event here for more details on classes and silent auction items! We hope to see you on Saturday, September 30th 9 am – 1 pm in support of the CIBC Breast Assessment Centre at Juravinski Hospital and Cancer Centre. If you are unable to attend and would like to donate please follow this link to the online donation page.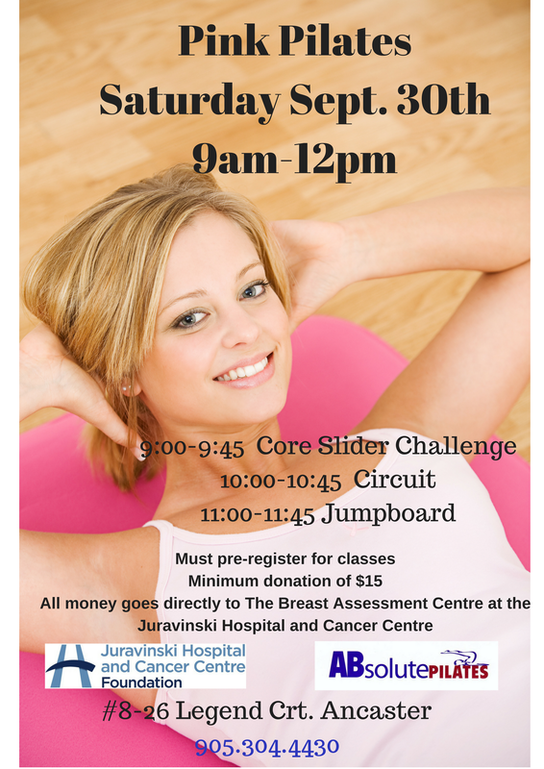 Did you know?
A combination of Pilates, physiotherapy and massage therapy can assist women as they recover from cancer surgery or cancer treatments? Breast cancer patients in particular can benefit from Pilates, which improves lymphatic drainage through specific breathing techniques and teaches shoulder mechanics which can help break down localized scar tissue.
At Meadowlands Physiotherapy and Absolute Pilates, we work with cancer patients and survivors to help them:
Regain range of motion, flexibility, strength and mobility
Increase energy levels
Reduce muscle tension and muscle fatigue
Improve sleep and alleviate fatigue
Focus on physical and mental well-being
Minimize weight gain
Increase inner strength and regain self-confidence
We are committed to supporting and encouraging our patients throughout their battle with cancer and in return they have inspired us to do more, which is why we run our annual Pink Pilates fundraiser, which involves a morning of for-donation Pilates classes, a bake sale, a silent auction and a BBQ.
All proceeds raised from our fundraiser supports the Juravinksi Cancer Centre at Hamilton Health Sciences. To date we have raised $18,557.70 for the Juravinski Breast Assessment Centre, but we're confident that with your help, we can do more. Contact us to donate now, or stay tuned for information about how you can get involved in our 2016 Pink Pilates event.
​Thank you for all your support and donations! Our 8th annual Pink Pilates was a huge success. We raised over $4,100 last year and more than $18, 500 in total!