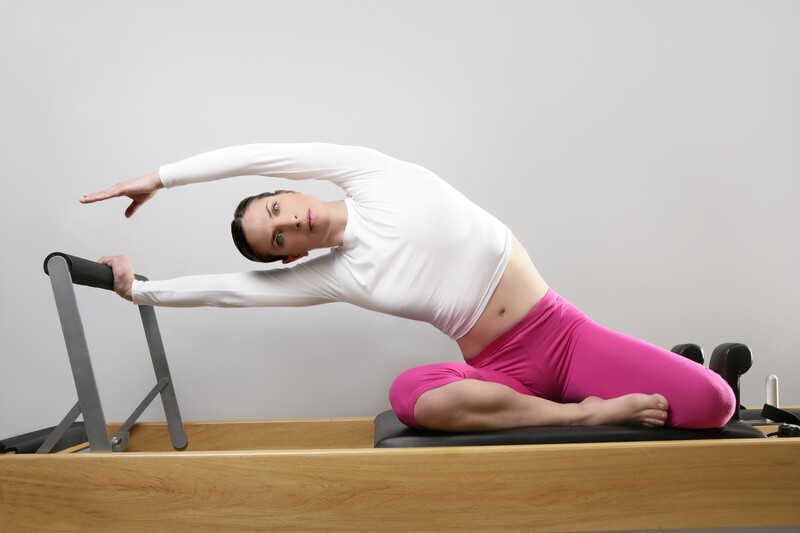 You can do Pilates without equipment but adding resistance through a Pilates bar can make your workouts even more impactful and help you to build strength even faster. If you need to up the challenge in your Pilates workout and you're looking at Pilates bars as a solution, you may be a bit overwhelmed by all of the options to choose from. Which is the best bar for your specific purposes? Here are some things to consider when you're making your decision.
Level of Resistance
As when buying free weights, you want to think about how much resistance the bar and its bands will offer your workout. If you already have great muscle development, bands with high resistance are important for an extra challenge. Most bars have the option to adjust to some degree, by rolling the bands around the bar. However, you'll still want high quality bands that will provide the optimal challenge for your skill level. The best way to test them is to pull on them in real life, but if you're buying online you may also be able to find bands that have a weight rating.
Durability
The material of the bar and bands, and the connections between the two, will determine how durable the Pilates bar is and how long it will last. You'll have to balance durability with cost. Bars made with steel and high-quality metals, and bands made with high quality rubbers will tend to be more expensive, though they'll be able to handle strenuous workouts for longer. Beware of hollow cords, aluminum bars and cheap-looking plastic connectors, as they'll likely have a short lifespan.
Comfort
You want to be comfortable during your workout so that you can focus on your form and challenging yourself physically. Pilates bars have many features that can help to make your workout more comfortable. Adjustable, padded foot loops are key. You may also find bars that are padded and offer sweat absorption. Otherwise, hold the bars yourself to compare their relative comfort and find a Pilates bar that suits you.
Height
Many of the bars you buy online will not adjust for people who are on the taller side. Look at the reviews to spot if this is the case for the bars that you're interested in. In general, bars with straps that aren't adjustable usually aren't ideal for people not of average height, whether they're taller or shorter than the average. If the only way to adjust the bands is to wrap them around the bar, then you may want to look elsewhere to find a bar suited to your stature.
Portability
Don't be fooled by the online reviews that equate the bar's weight to its portability. If you're doing Pilates, you can carry the bar to and from your car. What really matters for portability is if the bar fits in your car or can fold up in order to fit in your vehicle or bike bag. Some bars fold up. Otherwise, you may want to take a measurement of your trunk and ensure the bar will fit in. If you go for a fold-up bar, be sure to read reviews to ensure you're not sacrificing durability or strength for portability's sake.
Exercises
If you're exercising at home, you may be swayed by products that offer exercise guides to show you how to use the bar. Some have paper or digital instructions to teach you new moves. If you're a beginner to Pilates, a bar that comes with guidance and example exercises may be just what you need to get the ball rolling. Or, use your bar at your Physiotherapy appointments and get professional guidance from Meadowland's physiotherapists. Don't have a bar? Join a class at ABsolute Pilates and use our equipment under the watchful eye of certified Pilates instructors!