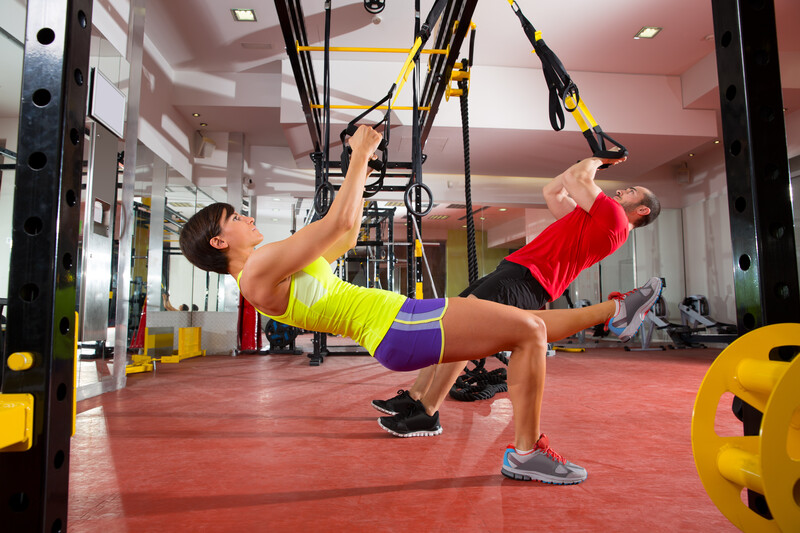 The TRX suspension trainer is an incredibly versatile tool. Using just this tool and gravity, you're able to work out any part of your body, even in a small space. Plus, you can scale your TRX exercises to any fitness level and it will always engage your core.
On the other hand, the TRX is such a versatile tool that you might not know where to start with it. We thought we'd share the best TRX exercises we've found to help strengthen every part of your body and start or diversify your TRX workout.
Try These TRX Exercises:
One Leg Squat
You can do normal squats with the TRX but to really take advantage of the extra stability the TRX lends you, try out one leg squats.
Step One: While holding the stirrups, lean backwards and raise one leg.
Step Two: Keep your back straight and core engaged while you squat with your other leg.
Step Three: Raise yourself. Repeat on the other leg.
Inverted Row
Working both of your arms in a rowing motion couldn't be simpler with the TRX suspension trainer.
Step One: Put your legs hip-width apart. While holding the stirrups, lean back.
Step Two: With your arms relaxed and straight, turn your palms to face each other.
Step Three: Keep your back and legs straight, and your core engaged, while you bend your elbows and pull yourself towards the anchor. Relax your arms and repeat.
Lateral Lunge
Often when using TRX, people move backwards and forwards, but neglect to move sideways. Moving laterally is an important step to build and maintain your flexibility and symmetry.
Step One: Set your legs further apart than your shoulders. Point your toes forward.
Step Two: Hold the stirrups slightly in front of your shoulders.
Step Three: Keeping both feet planted, bend your right knee and sink down to the right.
Step Four: Use the handles to stabilize yourself as you lift back up to standing. Repeat on the other side.
Rotational Ward
Ready to build core strength? A fan of yoga? This one is for you. It looks simple, but if you pull hard, you'll challenge yourself.
Step One: Stand sideways instead of facing the anchor point.
Step Two: Put the foot closest to the anchor point forward and the other slightly back.
Step Three: Place your hands flat together. Place them in both stirrups.
Step Four: Push your hands forward, together. The further you go, the deeper the burn. Keep your core tight.
If you find any of these exercises too challenging, move your feet back from the anchor point. If you want to increase difficulty instead, step closer. In this way, the TRX suspension trainer grows with you, without having to add weights.
Interested in more instruction on how to use your TRX suspension trainer with proper form or in targeting a certain area of your body these exercises don't cover? Contact us at Absolute Pilates. We can help you find the right exercise to accomplish your goals.